Manuscript Development

I always ask Robert to read my MS before I send it to my agent and he has caught errors many times.

— Dave Duncan
author of 45 fantasy novels (http://www.daveduncan.com/)

Dr. Runté is a pleasure to work with. I agreed with his edits, observations, and comments, even when I was reluctant to make a change because of the work involved, or his comments caused me to rethink what I had written. I particularly appreciated how he always spelled out why a change should be made, how it would make the book more marketable, and make it a better book.

— Paul Lima,
freelance writer and author (www.paullima.com)

By far, Robert Runté is the best editor I've used in many, many years. Not only is he adept at developmental editing, with a keen attention to detail, continuity and plausibility, but a natural copy editor. He has that rare ability among editors to shift effortlessly between non-fiction, fiction and academic writing. Robert is, quite simply, one of those editors with uncompromising standards.

— Lorina Stephens,
Five Rivers Chapmanry
Anthologies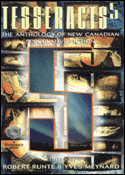 Runté, Robert and Yves Meynard, Tesseracts5. Edmonton: Tesseract Books/The Books Collective, 1996. [Canadian Speculative Fiction anthology] 352pp
"This anthology merits inclusion in any compre-hensive collection, and it rewards the curiosity of the casual reader as well" — Locus
"A provocative, exciting and extraordinarily varied exercise in what could be described as the mind's fourth dimension — imagination."
— The Toronto Star

"....has brought a fresh perspective to a genre crowded with American authors."
— SF Site
Thesis Supervision

Dr. Runte clearly understands the expectations of writing a thesis. This clarity was invaluable in supporting me through my struggles and final completion of my thesis. He provided clear, straight forward and honest feedback that greatly assisted me whenever I was "stuck" or in "writer's block".

—John Dubé,
former graduate student
Suicidal Children, 2005.
---
Every day when I sat down to work on my thesis, I stared in horror at the dumbest bunch of words ever put on paper, and considered abandoning the whole project. But Robert wouldn't let me — he goaded, prodded, nudged, and insisted that thesis out of me. Robert cared so much; sometimes more than I did, I think. His confidence in me, his dedication, his gruff enthusiasm helped me see the work differently, more clearly, so that I could shape it into something meaningful. With Robert's guidance, encouragement, and amazing editing skills, I did finish the thing. And it turned out to be good enough to win the Governer General's Award.

— Deanna Arlis
former graduate student
Bookmarks: Girlhood Reading that Marked Us Women. 1995. (Winner of the Govenor General's Gold Medal for Academic Achievement)
---
Robert understood well (better than I) the possibility in me and the manner of support needed to realize that possibility. He not only guided me skillfully through my master's thesis work, he convinced me to pursue doctoral work. Absent his patience, perceptiveness, the well-placed prompts, gentle nudges, an extraordinary breadth and wealth of understanding, and ever-present belief in me, I doubt I could have dared trust myself. Robert remains for me one of those key individuals for whom I owe a huge debt.

— Lissa D'Amour,
former graduate student
An Illustrative Phenomenographic Case Study: Charting The Landscape of Public Understanding of Science, 2008